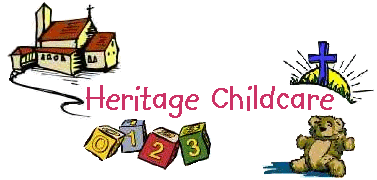 Open Since July 31, 2000
Extending the Parents' Hands....
We at Heritage Childcare are dedicated to Christian beliefs and we are here to

help the parent in the training of their child. Our goal is to help the active parent to teach and train their child in social, emotional, and physical growth.
Safe, Clean, and Caring....
The Heritage building was designed with child care being an important part of the building project. There is a drive-up door

where you and your child will be met by one of our trained caregivers. There are viewing windows in all rooms. Two main rooms have outside doors, for direct access to outside play area. The building features a state of the art fire system, bathroom facilities designed for small children, and a full gym for inside activities.

gggggggggggggggggggggggggggggggggggg
Hours....
Hours will be from 6:30 am to 6:00 pm.
Cost....
Five Day Rate .... $125.00 (6 hours or more)
Part Time Rate... $ 12.50 per day (5 hours or less)
*Late Fee... $1.00 every five minutes after 6:00 pm


Heritage Childcare
3520 Strayer
Maumee, OH 43537
Tel: 419-861-9521