Social Events
Mark Your Calendars!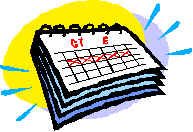 -December 10: Caroling
Everyone is welcome to join the church as we go caroling around the neighborhoods! Meet at the church at 4:30 pm. Then, come back to the church for hot chocolate and snacks!
-December 16: The Living Nativity
The first ever Living Nativity put on by Heritage Church of God! We want everyone to be a part of this special event. If you would like to be a part of the nativity (Wisemen, Shepherds, Angels, etc), please sign up! We need Mothers, Fathers, and Babies to sign up for the parts of Mary, Joseph, and Jesus for half-hour shifts. Parents, don't worry- there will be heat for your children!
*Please don't forget the Cantata and Children's Program during Sunday morning service on December 17!*
-Coming in January: Dinner Train
Take a relaxing train ride through Blissfield while enjoying dinner!