T-Shirts are on Sale Now!
The new t-shirts will display the Heritage Church of God logo.
The shirts are white with the three color logo on front. Adult sizes include Small, Medium, Large, XL, XXL, and XXXL. The cost is ten dollars per shirt. Reserve your size today! There will be a sign up sheet at the Scrip table on Sundays.
Support the Church- be a walking billboard!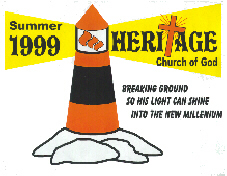 The shirt reads:
Summer 1999
Heritage Church of God
Breaking Ground So His Light Can Shine Into The New Millenium