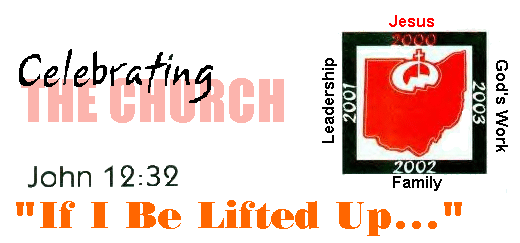 Payne Camp Meeting 2000
• Theme •
The unified theme of the Church of God in Ohio for the next four years is "Celebrating the Church." Each year will bring to us a new sub-theme and the logo that you see above, with "Jesus" at the top, will rotate to display the theme for the current year. The theme for 2000 is "Celebrating Jesus" and the verse for this theme is John 12:32, which says, "And I, if I be lifted up from the earth, will draw all men unto me."
• Kick-off Concert •
July 22, 2000 at 2:30 pm: Payne Camp Meeting Kick-off Concert with Proclaim, a group that combines various types of music, testimony, and worship.
• Speakers •
Sunday Evening: Vernon Maddox, Director of Ohio Ministries of the Church of God
Monday: Jim Fry, Free Christian Church of God, Continental
Tuesday: Rick Rufenacht, First Church of God, Defiance
Wednesday: Jeff Eckman, Cornerstone Church of God, Defiance
Thursday: Steve Anthony, Dorr St. Church of God, Toledo / Music: Stan Harmon, Van Wert
Friday: Bob Fry, Heritage Church of God, Maumee
• Youth Camp •
Jesus said, "...if I be lifted up from the earth, I will draw all men to Myself." - John 12:32 NASB
•Youth Camp this year will follow the same theme as the Camp Meeting. Youths will be exploring how they can lift up the name of Christ that all men might be drawn to him. Camp Directors are Rev. Jeff and Tori Eckman. Registration begins at 4:00 pm on Sunday, July 23 and Camp ends at 1:00 pm on Saturday, July 29. Cost is $50.00 or $45.00 if pre-registered by July 8. (Envelopes must be postmarked by July 8th to get the discounted price!) Additional youth from the same family receive a $5.00 discount
•Camp is for kids age 12 up to graduating seniors. Campers need to bring a sleeping bag, pillow, flashlight, Bible, ball glove, personal hygiene items, spending money, appropriate clothing for services (no shorts, please) and everyday attire.
• A printable registration form can be found at http://www.buildontherock.org/payne/youthcamp/campreg.html.
The forms must be mailed to:
Jeff Eckman
C/O Cornerstone Church of God
1600 Ayersville Ave.
Defiance, OH 43512
• Children's Camp •
Rev. Chris Meenach is the director of the Children's Camp. His Theme for this year will be "Are you a Christian?" The Children's camp meets each day from 9:15 am-12:00 pm. Activities include: Snack time, Crafts, Games, etc. Registration begins on Monday, July 24 at 9:00 am, and children can also be registered each day when they arrive.
• Missionary Conference •
Missionary Conferences will be held on Wednesday July 26 at 10:30 am and 1:00 pm in Kilpatrick Hall.
• Dining •
There is a Snack Stand and Cafeteria located on the grounds.